iPod Data Recovery Software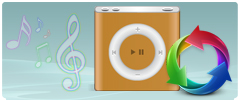 iPod Data Recovery Software restores data lost from iPod mp3 players. With the help of ipod data recovery utility any user who is facing data loss problems with iPod device, can recover all missing or deleted files. Software provides data recovery regardless of any data loss situation.

Software Features:
Recovers lost or deleted music files, audio video clips etc from iPod.
Capable to restore missing files and folders from major Apple iPod models.
Uses disk scanning techniques to recover inaccessible iPod data.
iPod music recovery program support data recovery from major Apple iPod models including iPod Nano, iPod Mini, iPod Shuffle, iPod Classic, iPod Touch and latest generation iPod series.