Home
/ Removable Media Data Recovery Software
Removable Media Data Recovery Software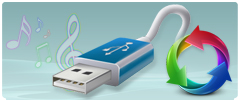 Removable Media Data Recovery software recovers lost or missing files and documents from major USB devices in few recovery steps. Software restores all accidentally deleted or lost data regardless of any data loss condition. Program supports all major removable media including Portable Flash Memory removable media, Digital audio player, Simple media player, Console Game applications, PDA, Mobile Communicator and other USB storage media to recover data files.

Software Features:
Supports major type and brands of USB devices including Transcend, HP, Kingston, Toshiba, Sony, Acer, Vivitar etc.
Software recovers data when data loss is the indication of many common system errors such as 'Disk not formatted' etc displayed on Desktop PC, Laptop while accessing removable media on My Computer drive.
Software uses Advance Search and Standard Search disk scanning techniques to recover and relocate lost or missing files and folders even from inaccessible disk.
Recovery tool has feature to save recovered data files at specified location on your computer system.